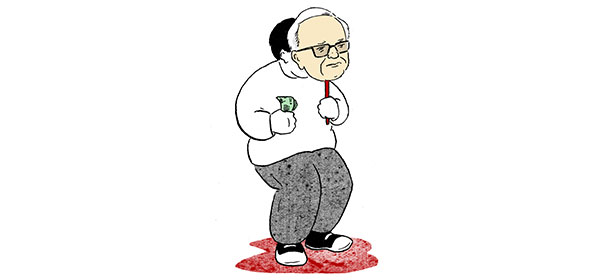 Portfolio Building
At 80-years-old, Warren Buffett is no stranger to the annual lists put out by Forbes Magazine. In 2011 alone he was ranked number 20 on the Most Powerful People, number two on the Forbes 400 list, and number three on the Forbes Billionaires list.
In a list of just U.S. billionaires, he's number two, a mere $6 billion behind Microsoft's Bill Gates.
Buffett worked to earn his fortune from a young age, accumulating a vast savings before he even graduated from college through a number of investments, including his first stock purchase at the age of 11.
After earning his master's degree from the Columbia Business School, Buffett went on to work for several different brokerage companies before landing atBerskshire Hathaway Inc. as CEO in 1970. Today, Buffett's net worth is around $39 billion and his business savvy is heralded throughout the financial world.
Buffett has earned his nickname as the Oracle of Omaha for his uncanny investment successes and he has never been shy about his investment techniques. Buffet's investment rules and strategies are noted by both novices and experienced investors alike, evidenced by his frequent props from Forbes Magazine. 
His rules are short and sweet, but perhaps the hardest to follow:
Number One: Don't lose money
Number Two: Don't forget rule number one
Simple, yes. But like most simple rules, these are easier said than done. The investment philosophy Buffett has lived his life by is more difficult, yet admired by legions of investors around the world:
Be Frugal: By maintaining a frugal lifestyle and business philosophy, investments don't need fast returns to support extravagant lifestyles. This encourages investors to be more thoughtful.
Be Patient: Buffett suggests waiting, sometimes for a long time, for market turbulence during which one can buy blue-chip stocks at much lower prices.
Be Original: Invest in stocks that others may be shying away from. Buffett has been quoted as saying, "Attempt to be fearful when others are greedy and to be greedy only when others are fearful." Going against conventional wisdom can be an effective way to make money.
Buy Companies Cheap: Fill your portfolio with stocks trading below the company's intrinsic value. Look for companies that have a solid return on equity, operating margins and low or no debt. Also it is important to search out companies that have a consistent operating history and generate a lot of cash
Look for Competitive Advantages: Buffett's strategy has been to seek out companies that have an "economic moat" or sustainable competitive advantages such as a strong brand identity and patent protection.
HOLD, HOLD, HOLD: Don't buy and sell frivolously, and invest only in companies that will outperform for decades. However, be sure to continue tracking performance and sell when trouble is forecast or stocks are over-valued.
Believe in America: Buffett's faith in the long-term success of American companies has allowed him to focus more on his investments and not worry about global economic cycles.
By following his own rules and strategies, Buffett has established a portfolio that is unlike any other. He has some big name companies in his mix like Johnson & Johnson, General Electric Co., and Exxon Mobile Corp., but also some lesser known companies like IngersollRand and USG Corp.
Buffett made headlines when he announced that 99% of his vast fortune would go to philanthropy, either during his lifetime or after his death. Buffett wrote in a pledge letter in Fortune Magazine, "The reaction of my family and me to our extraordinary good fortune is not guilt, but rather gratitude. Were we to use more than 1% of my claim checks on ourselves, neither our happiness nor our well-being would be enhanced. In contrast, that remaining 99% can have a huge effect on the health and welfare of others."
Buffett will continue to do well, whether it is through his philanthropic work, his success as CEO at Berkshire Hathaway or his own personal investment funds. His fortune and the lessons learned may have come from the stock market, but they transcend into everyday life.